6ft Temporary Fencing Portable Chain Link Panel For Sale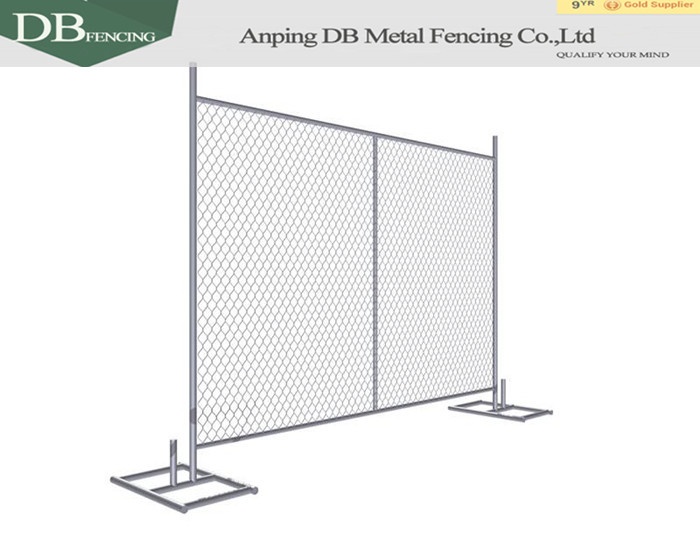 6ft Temporary Fencing Portable Chain Link Panel For Sale
6ft Temporary Fencing is also called mobile fence mesh, chain link fence panel. Our temporary chain
link fence are totally reach Australian standard, which all are hot dipped galvanized.They are popular
in Australia, American, England, Africa market .
6ft temporary fence uses high quality mild steel wire and galvanized tube as raw material, the
infill mesh and frame pipe are tightly wrapped together by tension bars and tension bands.The finished
temporary chain link fencing is strong enough and durable for all site-specific requirement, either uneven
ground or sloping sites.
In addition, temporary chain link fence with wire diameter of 9 gauge, 11 gauge and 11.5 gauge, 2'', 2-1/4'', 2-2/5"
mesh opening, frame outside diameter of 1-1/4" and 1-3/8'',plus the hot dipped galvanized surface treatment, its service
life can be up to 10 years.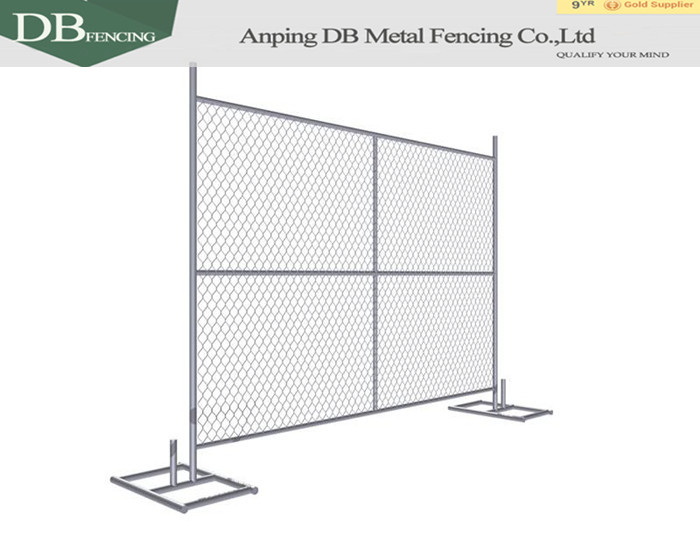 Our most popular size Height: 6' and Length:12' is for construction, municipalities, schools, events and
residential projects.
Height: 8' and Length: 12' for large construction and commercial projects that gives you that added level
of security and safety.
6ft x 12ft, 6ft x 10ft, 6ft x 8ft, 8ft x10ft, 8ft x 12ft Temporary Chain Link Fence Panel

Design

North America,Australia & New Zealand

Made

China

1) Panel Specification

Panel Size

6ft x 12ft, 6ft x 10ft, 6ft x 8ft, 8ft x10ft, 8ft x 12ft

Frame

1.25"/32 mm, 1.5"/38 mm, 1.6"/40 mm round optional.

Chain Link Mesh Wire

9 ga/2.9 mm, 10.5 ga/2.7 mm, 11 ga/2.3 mm, 11.5 ga/2.2 mm, 12 ga/2.0 mm optional

Chain Link Mesh Size

2" (50 × 50 mm), 2.25" (57 × 57 mm), 2.4" (60 × 60 mm), 2.75" (70 × 70 mm) optional.

Brace

Cross, vertical, horizontal brace with 1"/1.25'' round or the same with frame O.D

Treatment

Pre-Galvanised pipe and panel welded,then galvanised spraying or hot dipped galvanised

Standard (Standard panels include barbed wire as extra security)

AS 1725-2010 – Chain – Link Fabric Security Fences and Gates.

AS 2423-2002 – Coated Steel Wire Fencing Products for Terrestrial,Aquatic and General Use.

AS 54687-2007 – Temporary Fencing and Hoarding.

2) Steel Feet Specification

Size

750 mm L x 100 W x 8.0 mm Wall Thick flat base or 30" length x 18" width x 8" Height /762 mm x460 mm x203 mm, (32 mm) O.D. tube base

Treatment

Hot dipped Galvanised;

3) Clamp Specification

Size

Specially moulded 4.0 mm wall thickness for additional strength,80 mm,90 mm,100 mm hole spacing(C/C);

Treatment

Hot Dipped Galvanised;
1. 6ft Temporary Fence Quality Testing
DB Chain Link Fence panels comply with ASTM A392-06 standards, having superior exposure and corrosion
resistance in an outdoor construction site.
360° full welded tubular frame.

All pipes are 360° full welding circled to make sure a firm fence structure.
This can ensure that the temporary fencing is not damaged during the frequent moving process, and will not
be corroded even in hostile environment.
Hand craft techniques manufacture.

Panels are filled with galvanized chain link mesh and sometimes
wrapped around the frame tube with tension bars and tension bands by hand in a rather tension way.
Another option sturdy attached way. Available flat bar the use clamps to connect the two adjacent panels.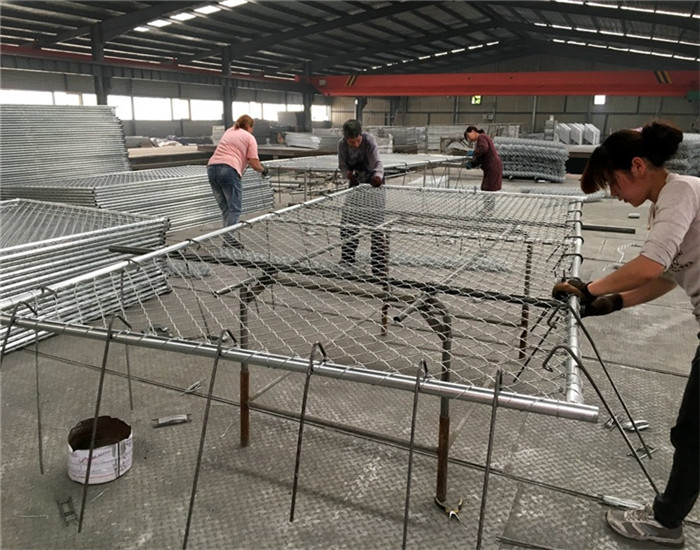 2. Temporary Chain Link Fence Stands Types
Our Temporary chain link Fence Panel stands (footings) are constructed from galvanized 1'' or 1-3/8"
diameter tubing and welded into an approximate 16" x 36" rounded rectangles. With two smaller diameter
uprights welded in place to accept the outer frame, these stands ensure stability and reliability.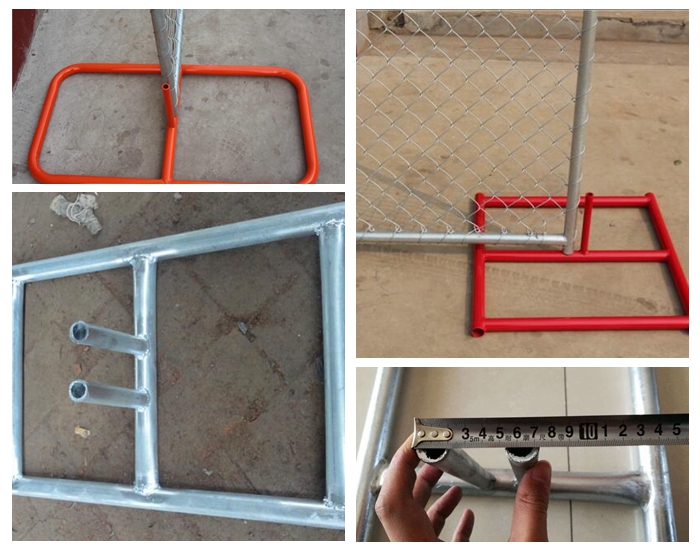 3. 6ft Temporary Fence Saddle Clamp
Each panel is further reinforced with Galvanized saddle clamps, nuts, bolts used to connect two panels together.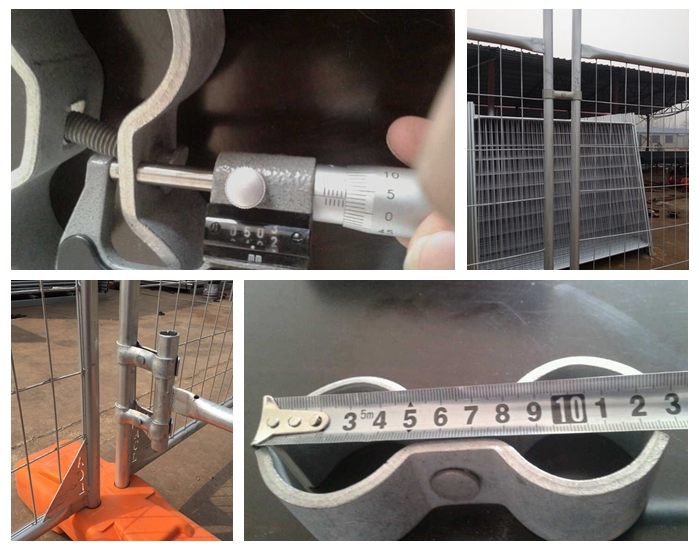 4. 6ft Temporary Fence Loading
DB Chain link Panel Fencing is an excellent perimeter security solution , and easy to transport and
secure into place, above-ground panel fencing provides a sturdy and reliable fence for many job-site
applications.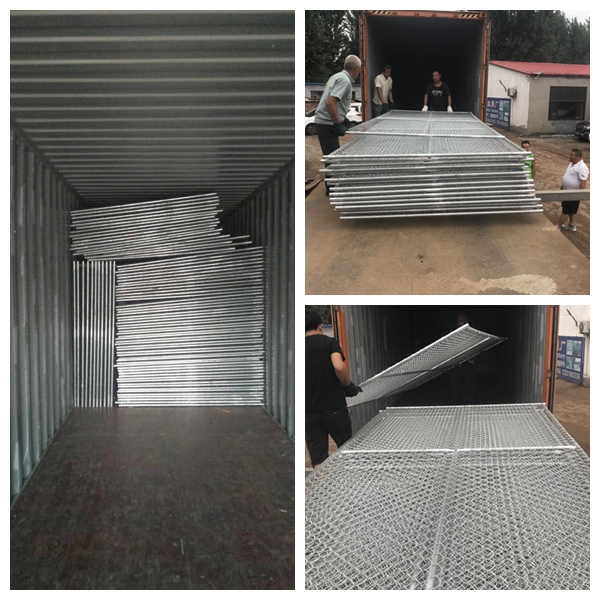 5. Temporary Chain Link Fence Applications
Some of the most common uses for temporary chain link panels include:
• Commercial Construction Sites
• Housing Developments
• Highway projects
• Remodels & store front renovation
• Public Works Projects
• Post-Disaster Reconstruction