8 Foot x 10 Foot Chain Wire Temporary Fence Panels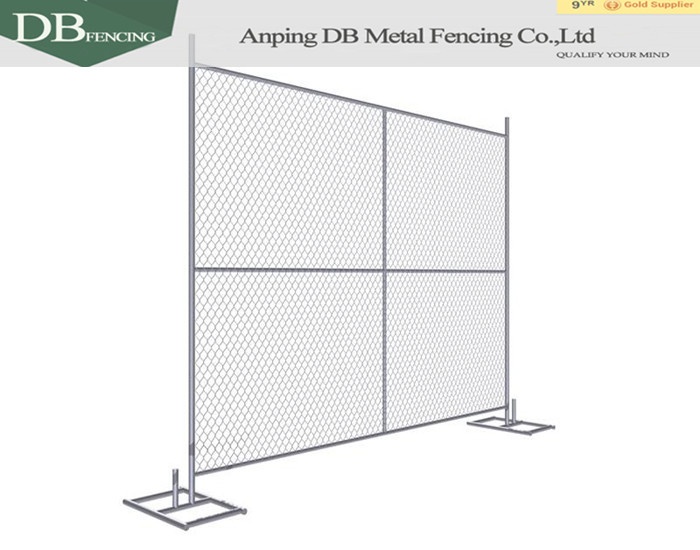 8 Foot x 10 Foot Chain Wire Temporary Fence Panels
DB Fencing can supply you a quick and convenient solution for your temporary chain link fence needs in event or job site. Our high quality Chain Link Fence Panels are free-standing, so no drilling post hole is required , which can be portable and used many times. Temporary Fence Panels are supported by panel stands or (feet).
Known for their quality and durability, our Temporary Fence Panels have become the first choice of many contractors, construction companies and special event organizers.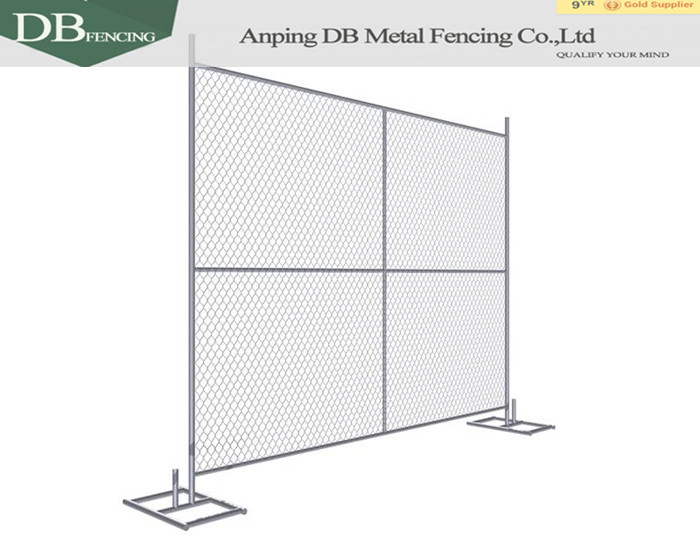 1. Temporary Chain Link Fence Panels Specs
Panel Size: 6ft x 12ft, 6ft x 10ft, 6ft x 8ft, 8ft x10ft, 8ft x 12ft

Frame: 1.25"/32 mm, 1.5"/38 mm, 1.6"/40 mm round optional

Chain Link Mesh Wire: 9 ga/2.9mm, 10.5 ga/2.7mm, 11 ga/2.3mm, 11.5 ga/2.2mm, 12 ga/2.0mm optional

Chain Link Mesh Size: 2" (50 × 50 mm), 2.25" (57 × 57 mm), 2.4" (60 × 60 mm), 2.75" (70 × 70 mm) optional

Cross Brace: Vertical, horizontal brace with 1"/1.25'' round or the same with frame O.D

Treatment: Pre-Galvanized pipe and panel welded,then galvanized spraying or hot dipped galvanized

Standard 1: AS 1725-2010 Chain Link Fabric Security Fences and Gates

Standard 2: AS 2423-2002 – Coated Steel Wire Fencing Products for Terrestrial,Aquatic and General Use

Standard 3: AS 54687-2007 – Temporary Fencing and Hoarding

2. Cross Brace: 1" or 1.25'' O.D,14 Gauge wall thick
Plus Bracing - Both vertical and horizontal bracing to impact strength from outside and wind to be a durable panels

Vertical Bracing - The vertical brace (centered in frame horizontally) increasin the strength and durability of the fence panel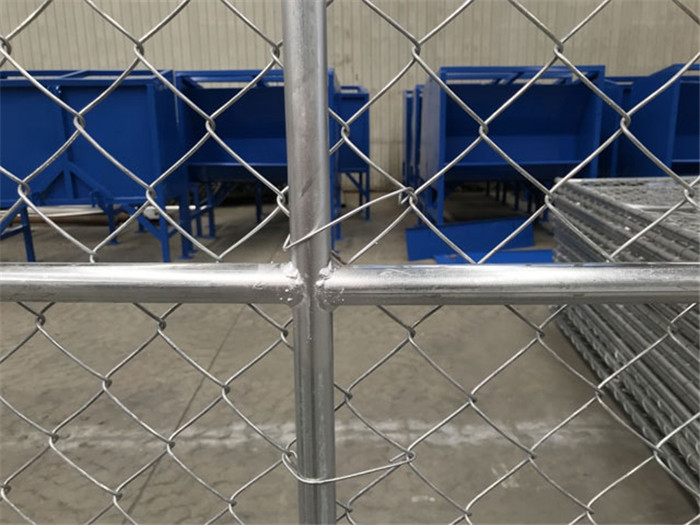 3.
The stands of temporary chain link fence size 16" x 36", with 1-3/8" diameter tubing and slightly smaller uprights for panels to fit over.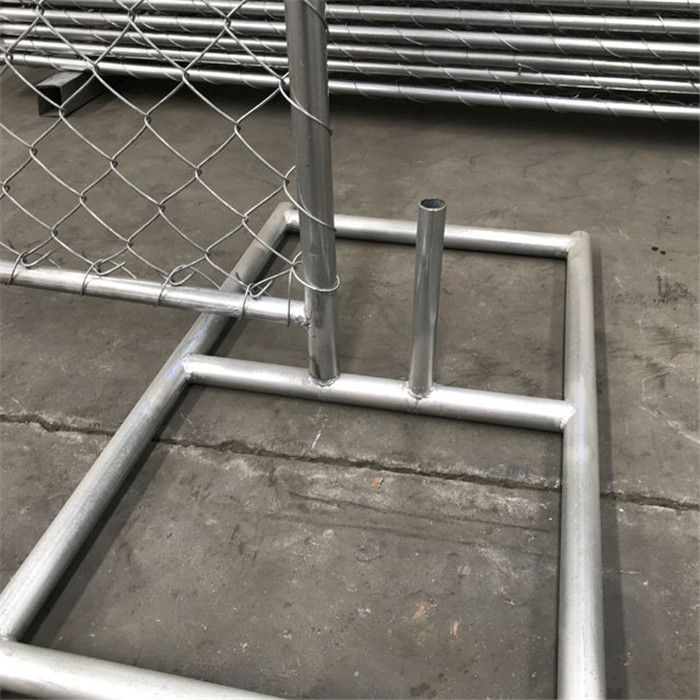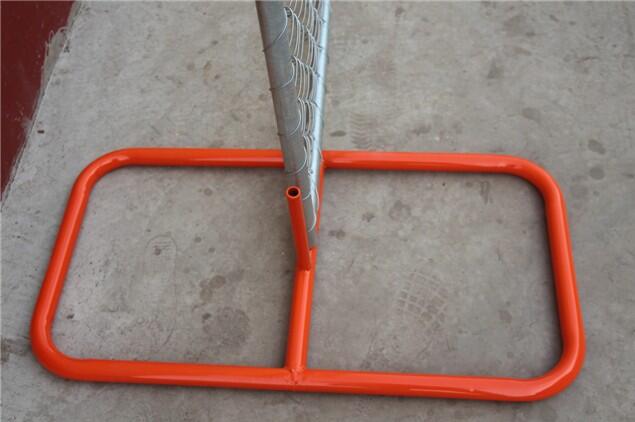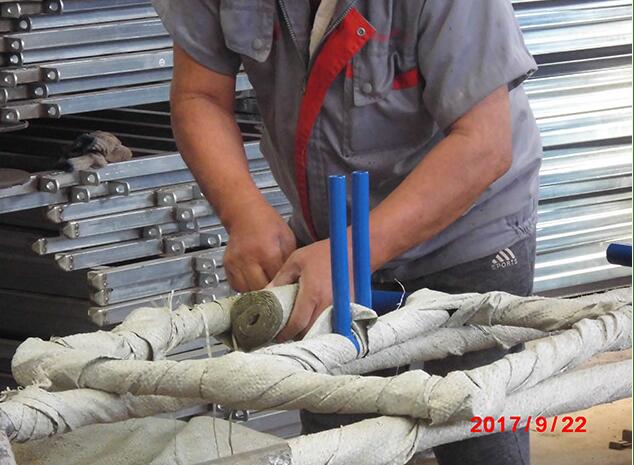 4. Temporary chain link fence clamps
Pressed steel, 8 Gauge,
Designed to join fence panels together
,
Hot-dipped galvanized silver color,
Included 3/8" x 2-1/2" H.D.G. carriage bolt & nut; priced per Set.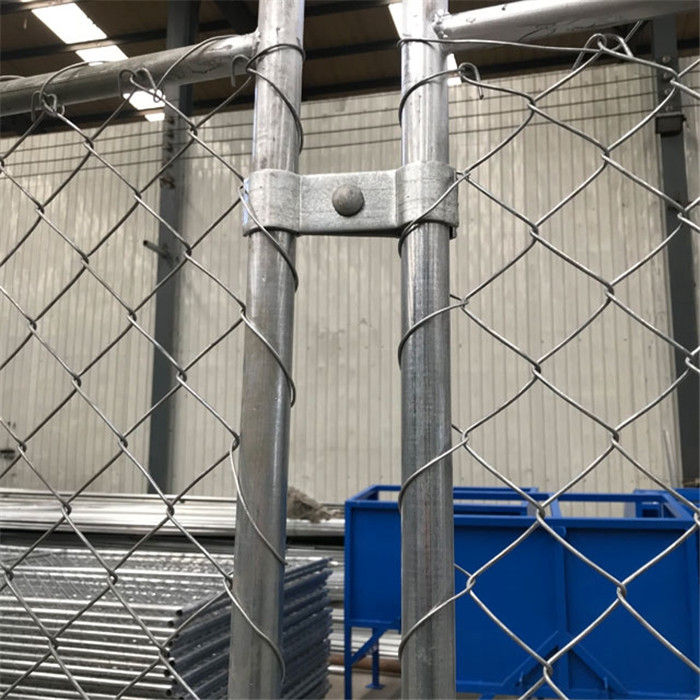 5.
Barb Wire, Razor Wire -Stop attempting to gain illegal access to your site
The barb wire and razor wire can be along the top of our 6ft and 8ft height temporary chain link fences and matching gates.
Each wire type will discourage fence climbers. We advise customers check with local laws to learn if barb/razor is permitted or violates a city ordinance.
Normally three strands barbed wire from post to post in a straight line, or arranging the barb arms at a 45 degree angle. The latter method is very rare because the barb sticks out into a walking path.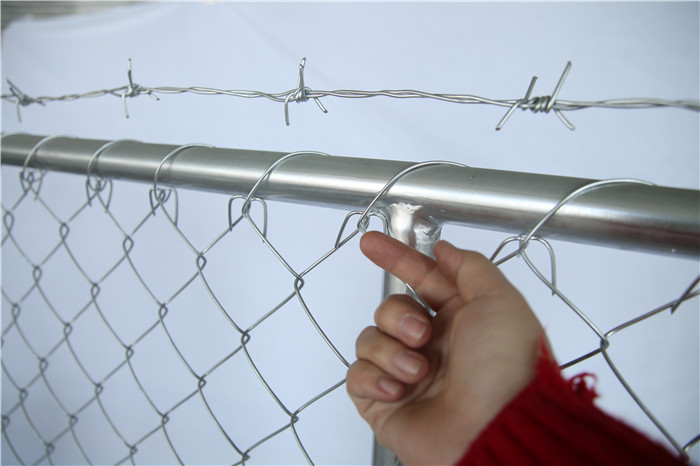 6. Privacy Fence Screens, Windscreens
The privacy fence screens / windscreens is fit to 6ft or 8ft height chain link fences, which is polyethylene mesh to provide 88% privacy and 12% airflow.
Highly effective to dampen wind, resist water, mold and mildew, provide privacy and cut UV rays.
Very popular for temporary commercial use at construction sites, agricultural fields, emergency restoration areas or shelters, sports fields, courtyards, nurseries or gardens.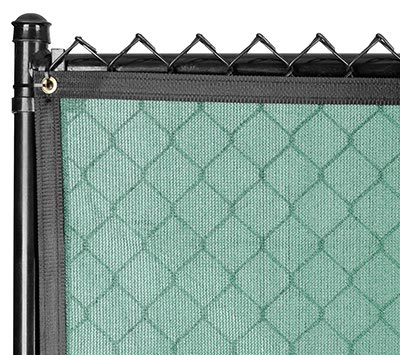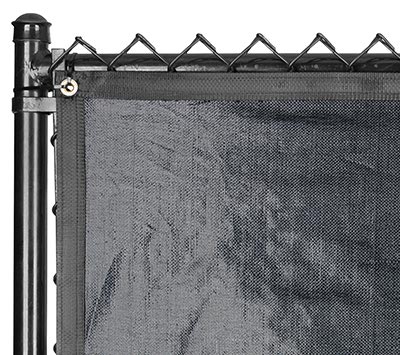 7. Temporary chain link fence gate
Personal Gate: The gate of Temp Fence chain link fence is available with 3' wide opening Pedestrian
gate with hinges and pad-lockable latch, giving a path to safely and efficiently allow the crows.




Swing gates: The swing gate fully open to allow trucks to pass through. If the opening is 12 feet or less (such as a pedestrian entrance), a single swing gate is sufficient. Swing gates usually open inward (toward the property), unless impossible to do otherwise. For wider openings (vehicle entrances), double swing gates are recommended as this configuration requires less room to operate than a single, longer gate.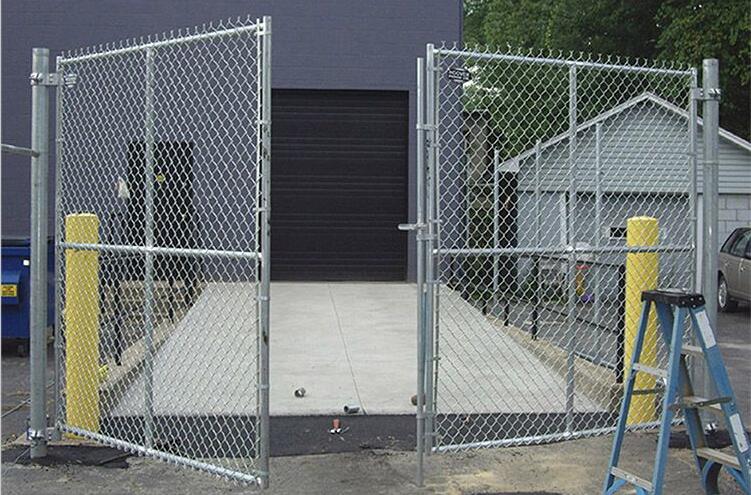 Slide gates: Allows sufficient room for traffic of all kinds to pass through. Slide Gates require very little room to operate and are a preferred option when a construction area has limited space, such as near a roadway, property line or permanent structure. The area around a slide gate must be level to allow each gate to move freely and parallel to the attached chain link fence for proper operation
.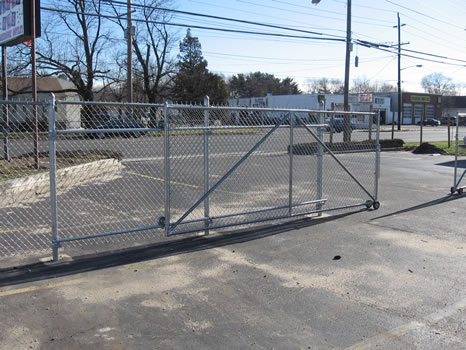 8. Temporary chain link fence packing and loading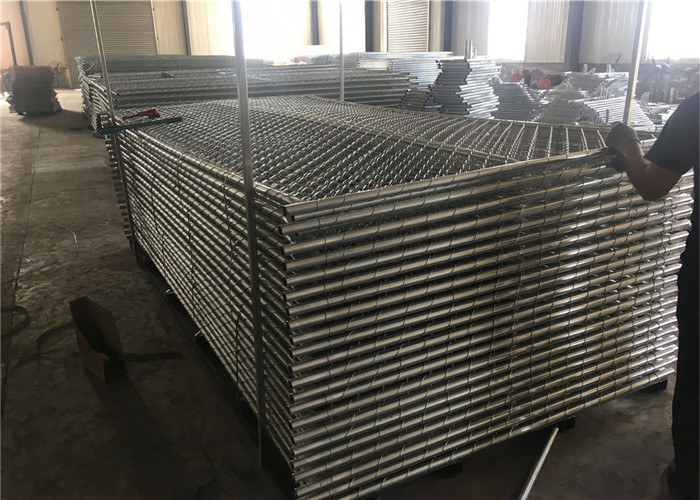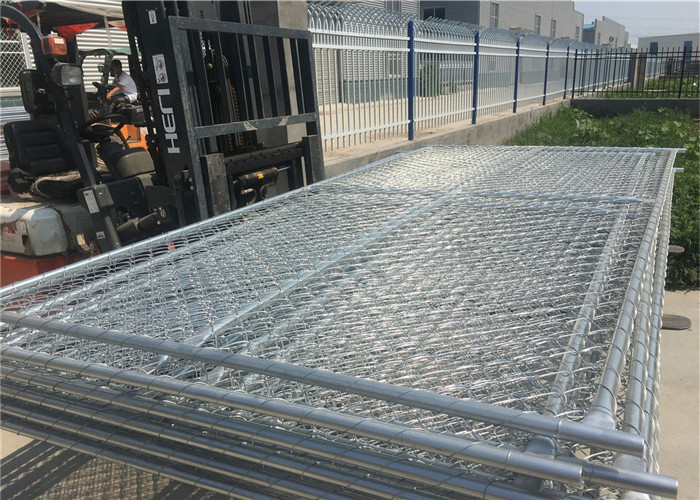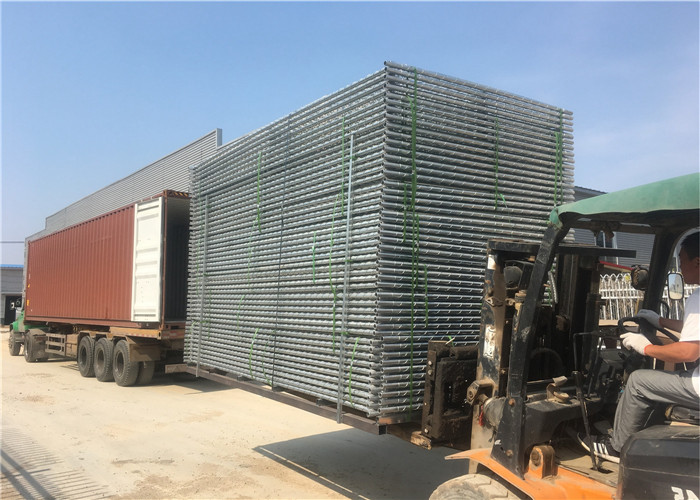 9. Temporary chain link fence features
360° full welded tubular frame

Galvanized 60 or 28 microns to anti- corrosion

Installs on any surface including ground, asphalt or concrete

ASTM A392-06 standard minimize the amount of corrosion

The welding corner joints are galvanized sprayed painting to cover any exposed metal.
Galvanized saddle clamps, nuts, bolts used to attach panels together.