Picket Steel Fencing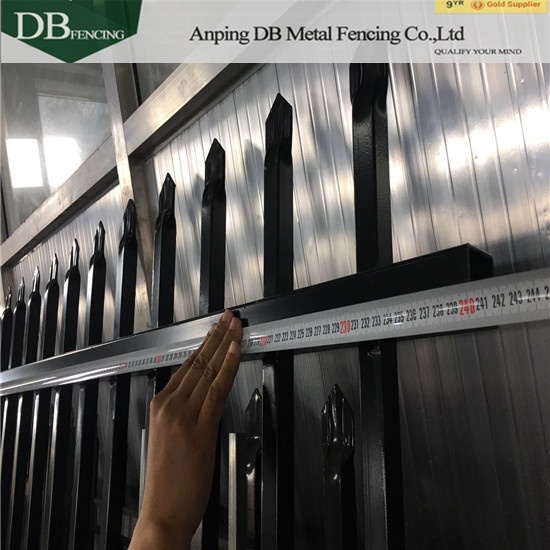 Picket Steel Fencing
The Galvanized Steel Picket Fence includes Straight, Wave and Staggered top. The upright picket has a 1'' diameter 14 gauge tubes on 4'' centers, and the post 2-1/2'' diameter 14 gauge tube, with swaged tops for the pickets and post. The EAGLE DESIGN can be provided with anti-intruder top design by extending the top picket and forming to a 45 degree angle.
The galvanized and powder coated steel picket fence can be used in schools, medical facilities, sports and leisure complexes, industrial buildings and military bases.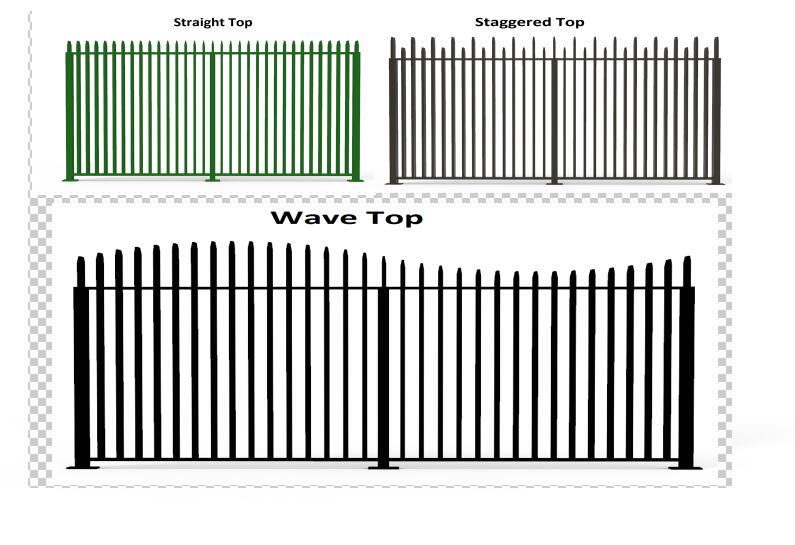 Hot-dip galvanized finish with a polyester powder coating gives the best corrosion protection in the industry. It is meticulously cleaned and prepared in a 7-stage chemical pre-treatment process and finished in a highly durable polyester powder coat that will look great for years to come.
Our galvanized steel framework is subjected to a multi-stage pre-treatment/wash (with zinc phosphate), followed by a duplex cathodic electrocoat system consisting of an epoxy primer, which significantly increases corrosion protection, and an acrylic topcoat, which provides the protection necessary to withstand adverse weathering effects.
1. Steel Picket Fence Style

North America Steel Picket Fence

Item

L x H

Upright Pickets

Horizontal Rails

Post

Top Type

Finish

1. Popular Style

3', 3 1/2', 4', 5' or 6' Height

.625'' dia. 18ga, 4'' center spacing

1''

2-1/2'' dia. 14 gauge

Straight, Swaged, Wave Top

Galvanized and Powder coated

2. Residential steel fencing.

3', 3 1/2', 4', 5' or 6' Height

.625"sq x 18ga

.9375" x 1.25" x 14ga

2"sq x 16ga

Straight

Galvanized and Powder coated

3. Commercial Steel Fence

7' and 8'

0.75"sq x 14ga

1.4375" x 1.5" x 14ga,3 Rail or 4 rails

2"sq x 16ga

Straight

Galvanized and Powder coated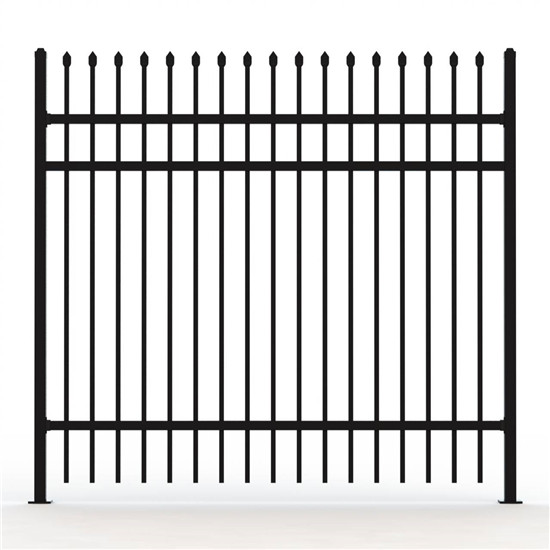 2. Steel Picket Fence Processing
1>Cut Shot
2>Punching Holes
3>Acid-Washing
4>Rich-Zinc Powder Coating
5>Polyester Color Powder Coating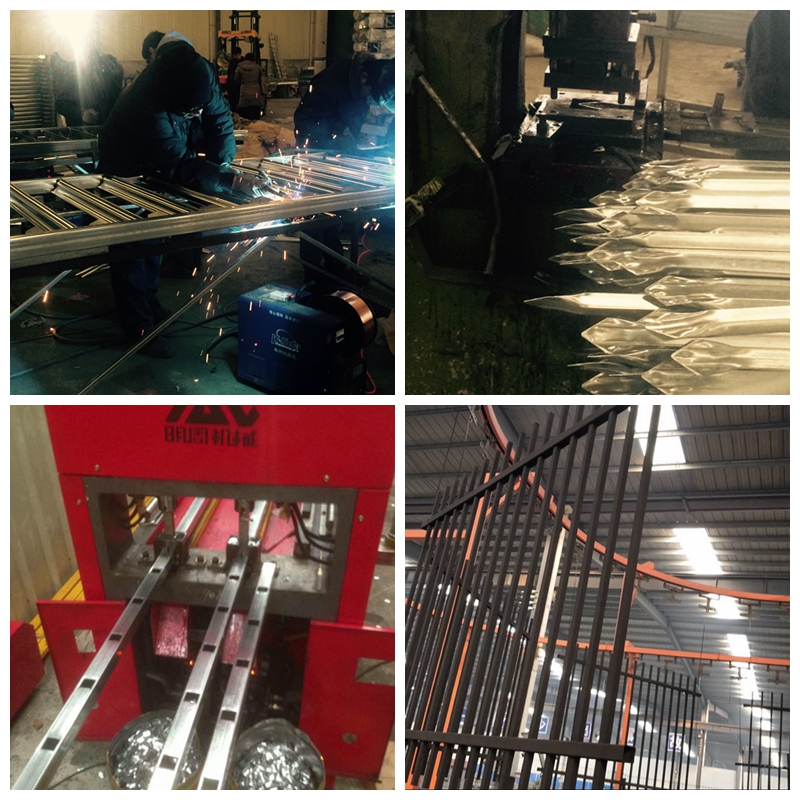 3. Steel Picket Fence Accessories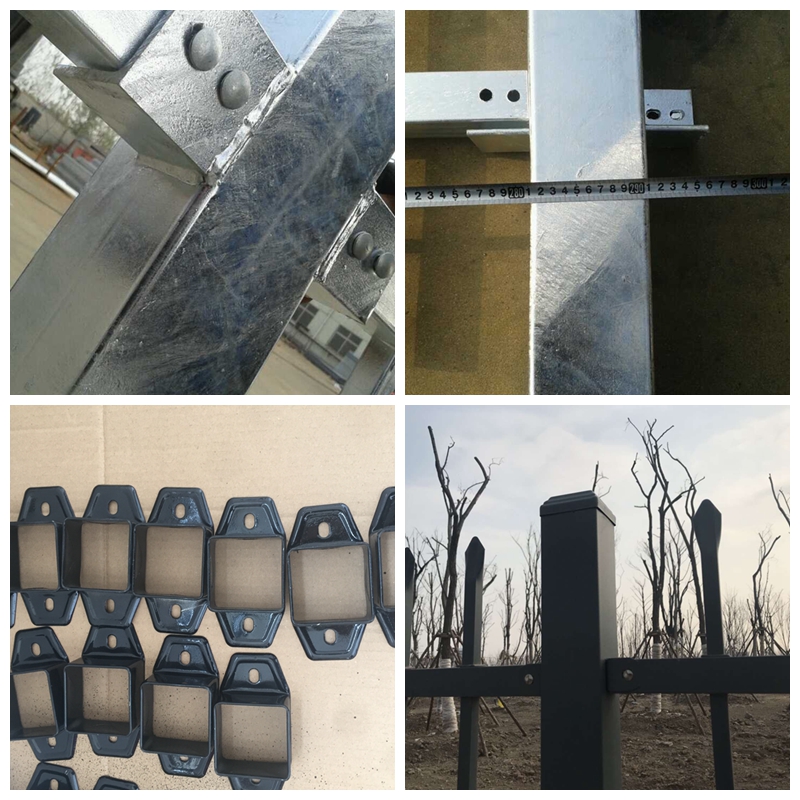 5. Steel Picket Fence Quality Testing

· Stick to manual 360° full welding for highest strength.
· Pre-galvanized and power coating offers corrosion resistance and bright color.
· Hot dipped galvanized surface treatment for long service life.
· All hardware including mounting brackets & screws are available.
· Customized sizes, styles for your ornamental needs.
· Reliable and professional advice for your effective purchase.
· Free value-added service for replacement or a rainy day.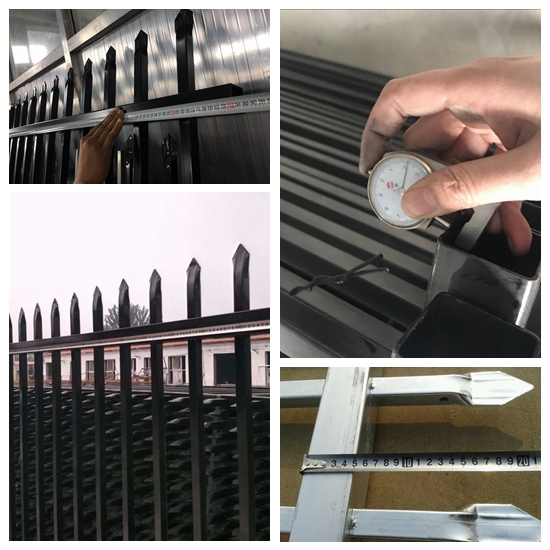 6. Steel Picket Fence Loading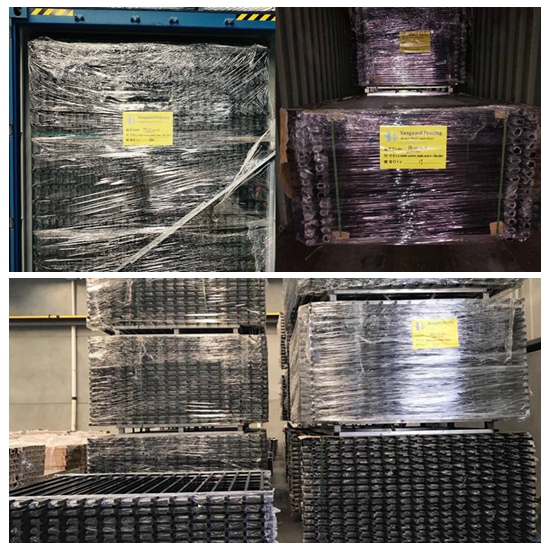 7. Steel Picket Fence Services



1.Free sample services
DB Fence can offer you high quality free sample for you,if you need.
2.Customize services
We can produce many various garden fence products,and specification are different,but some customers' requirements cann't be satisfied,so we make customize services,we can make as your requirements.
3.After sales service
When we have a cooperate, We will visit the customer, understand customer for the evaluation of our product,when have some problem,we will do our best to solve them.We do this,it can help us to improve ourselves, to provide a higher quality product .