Steel Picket Fence



Steel security picket fence is also called spear top metal fence, spear top fences, spear top tubular fence etc. It is very Security,beautiful,and easy install. This kind of fence is very popular in international market. It used to school type fence, decorative fence,runway fence etc.
The steel security fence is made of hot dipped galvanized Press formed spear top tubulars, neatly welded onto the hot dipped galvanized horizontal tube rails in line. Then the fence panel will be powder coated.
When install the spear top fence, it is used to connected to the post by bolts or connectors. So it is very easy install,beautiful, neatly.



1. Steel Picket Fence Description




Material: hot dipped galvanized round and square tube
Black color powder coated
Width 2.4m x Height 1.8m , Width 2.4m x Height 2.1m
40x40x1.6mm top and bottom rail, 25x25x1.2mm Verticals
There are 17 vertical pickets 25x25mm with spear.
Gap in between the pickets is 110mm
Post 60x60x2.0mm or 80x80x2.0mm.


Spear-top Steel Picket Fence

Market

America, Canada, Euro,Australia & New Zealand

Made

China

1) Panel Specification

Panel Size

6' × 8', 10' × 8', 7' × 8', 8' × 8'

Horizontal rail O.D.

1.26" × 1.26", 1.58" × 1.58", 1.78" × 1.78", 2" × 2", optional.

Vertical rail O.D.

0.63" × 0.63", 0.75" × 0.75", 1" × 1"

Fence post

2.36" × 2.36" × 0.08"

2.56" × 2.56" × 0.08"

3.15" × 3.15" × 0.08"

Treatment

Full hot dipped galvanized.

Pre-galvanized and powder coated.

Color

Silver, gray, black, etc.

2) Clamp Specification

Size

1 set of steel fence post include 1pcs post cap, 4 set brackets, 12 pcs self drilling screw.

Treatment

Hot Dipped Galvanised or powder coated

Weight

/

3) Packing

In Steel Pallet

1 × 40' HC for 10' × 8'

290 sets (1 panel + 1 post + 1pcs post cap +
4 set brackets + 12 pcs self drilling screw).

1 × 40' HC for 6' × 8'

408 sets (1 panel + 1 post + 1pcs post cap +
4 set brackets + 12 pcs self drilling screw).

4) Shipping Time

15-20 days for 1x40'HC after receiving the deposit;

5) Payment

30% deposit by TT, and the balance paid at sight of BL copy;
2. Steel Picket Fence Processing



1>Cut Shot
2>Punching Holes
3>Acid-Washing
4>Rich-Zinc Powder Coating
5>Polyester Color Powder Coating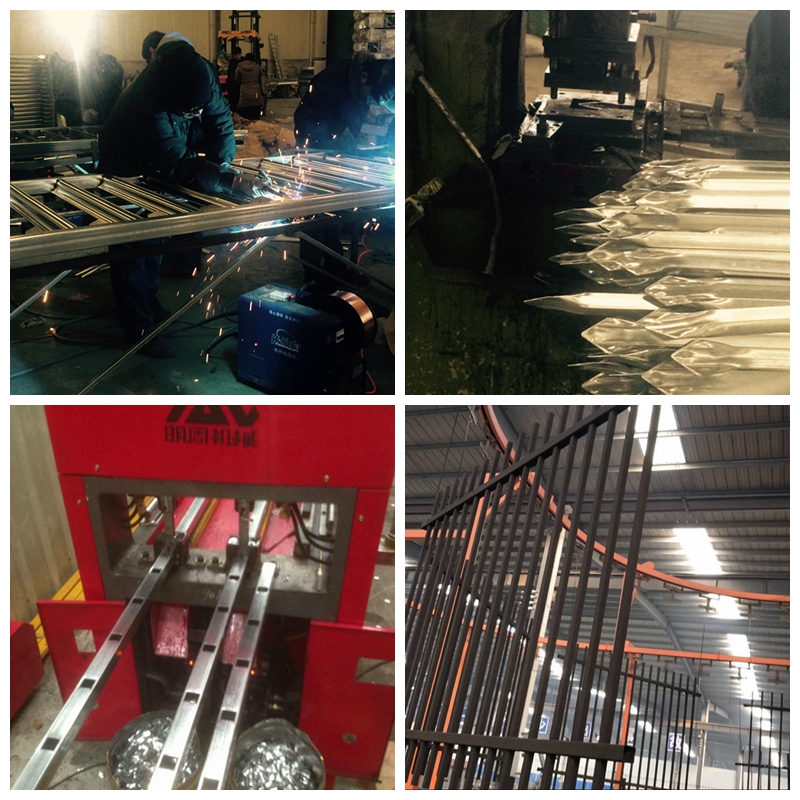 3. Steel Picket Fence Accessories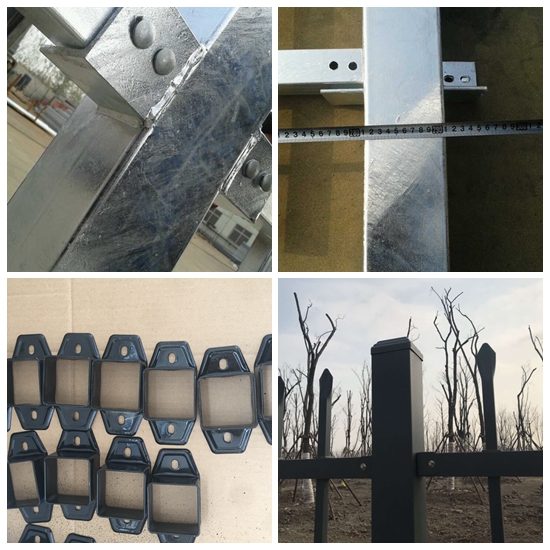 4. Steel Picket Fence Quality Testing

· Stick to manual 360° full welding for highest strength.
· Pre-galvanized and power coating offers corrosion resistance and bright color.
· Hot dipped galvanized surface treatment for long service life.
· All hardware including mounting brackets & screws are available.
· Customized sizes, styles for your ornamental needs.
· Reliable and professional advice for your effective purchase.
· Free value-added service for replacement or a rainy day.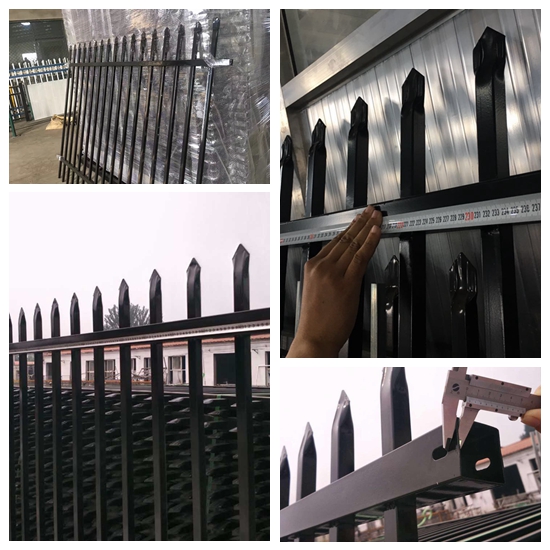 5. Steel Picket Fence Loading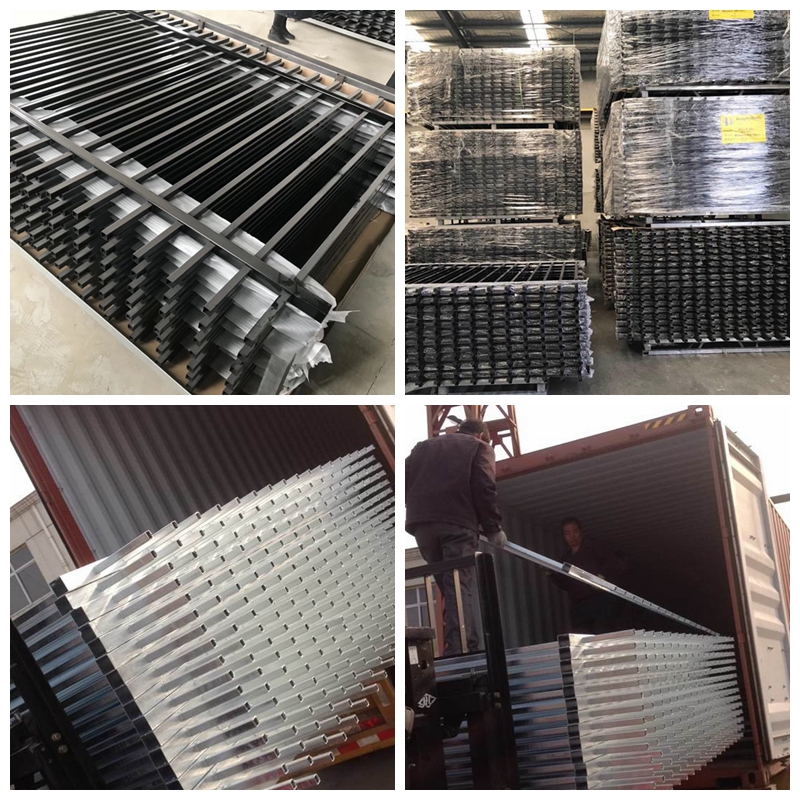 6. Steel Picket Fence Services



1. Free sample services
DB Fence can offer you high quality free sample for you,if you need.
2. Customize services
We can produce many various garden fence products,and specification are different,but some customers' requirements cann't be satisfied,so we make customize services,we can make as your requirements.
3. After sales service
When we have a cooperate, We will visit the customer, understand customer for the evaluation of our product,when have some problem,we will do our best to solve them.We do this,it can help us to improve ourselves, to provide a higher quality product .