Flexible structures crowd control barrier Supply of Sport fields to Australia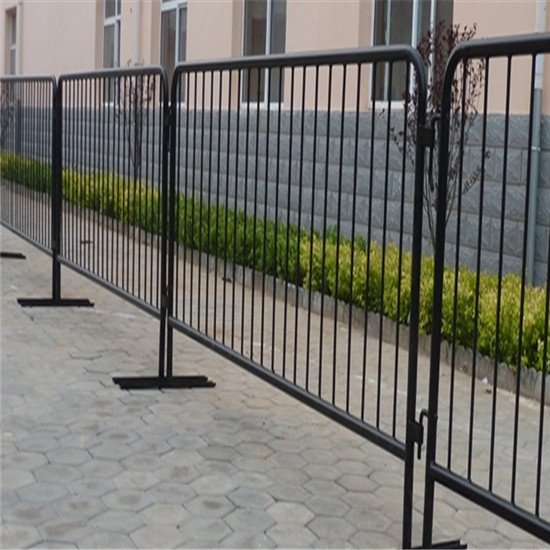 Flexible structures crowd control barrier Supply of Sport fields to Australia
Crowd Control Barrier is built from high-quality carbon steel and is hot-dipped galvanized
inside and out to prevent rust and corrosion and ensure long term weather resistance.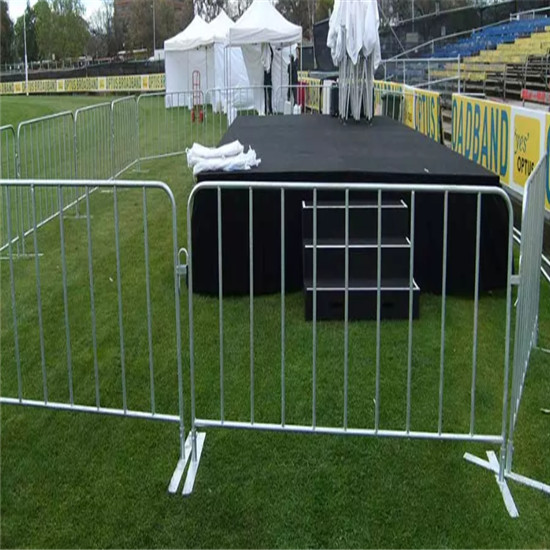 1. Detailed description of crowd control barriers
| | |
| --- | --- |
| Length | 2.0m, 2.1m, 2.2m ,2.5m |
| Height | 0.9m, 1.0m, 1.1m, 1.2m |
| Frame O.D | 32mm, 38mm ,25mm |
| Frame Thickness | 1.3mm, 1.4mm, 1.5mm, 1.8mm, 2.0mm |
| Infill Pickets O.D | 16mm, 20mm, 25mm |
| Infill Pickets Thickness | 1.0mm, 1.2mm, 1.5mm |
| Spacing | 100mm, 120mm, 150mm, 190mm etc. |
| Feet Type | Fixed Leg , Briddge Leg , Flat Leg |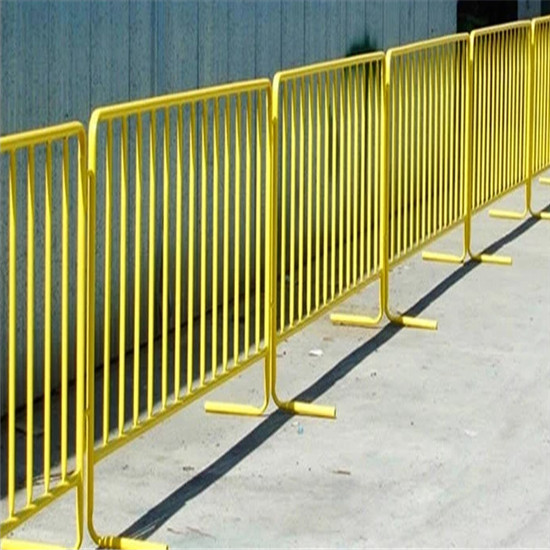 2. Base type of crowd control barriers
Crowd control barrier with V type foot
Crowd control barrier with flat type foot
Crowd control barrier with bridge type foot
Swinging or Sliding Gates and Barricade Arches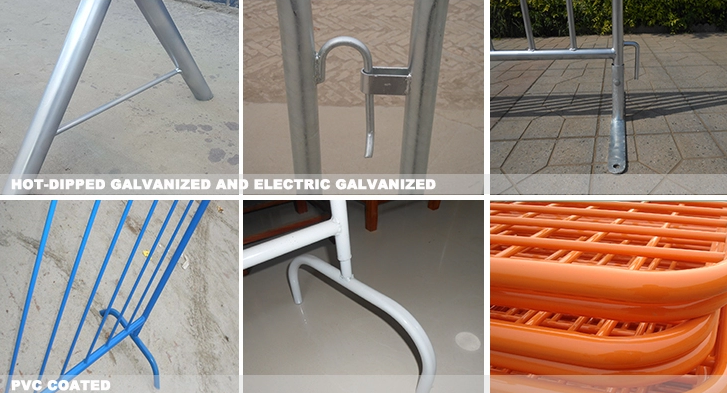 Use gates intermittently among long-running lines of barriers to allow controlled access through
the line. This will enable officials, police, and EMS personnel to open a gate when necessary for
official/emergency purposes.
For crowd traffic flow, a gate can also act as a "floodgate" to relieve heavy congestion. Gates provide
you with a necessary "emergency back door" in case of unforeseen circumstances:
Allow for controlled breaks in long lines of interlocking steel barricades
Permits the police or EMS personnel the ability to break through crowd control barriers in emergency situations
All the weight is on the wheels (not on the hinged side)
Heavy-duty steel latch locks gate into the next steel barrier for a continual run of connecting frames
3 standard international lengths in stock to match 3 basic hook variations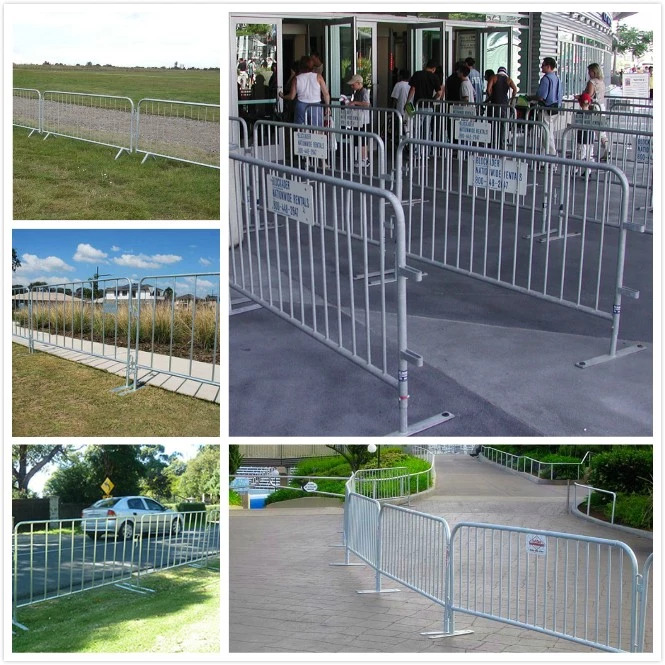 3. Finish of crowd control barriers
The whole panel is hot dipped galvanized after welding as per the specs and drawing.
The barrier is polished after galvanizing so that no burrs sharp points to hurt the workers.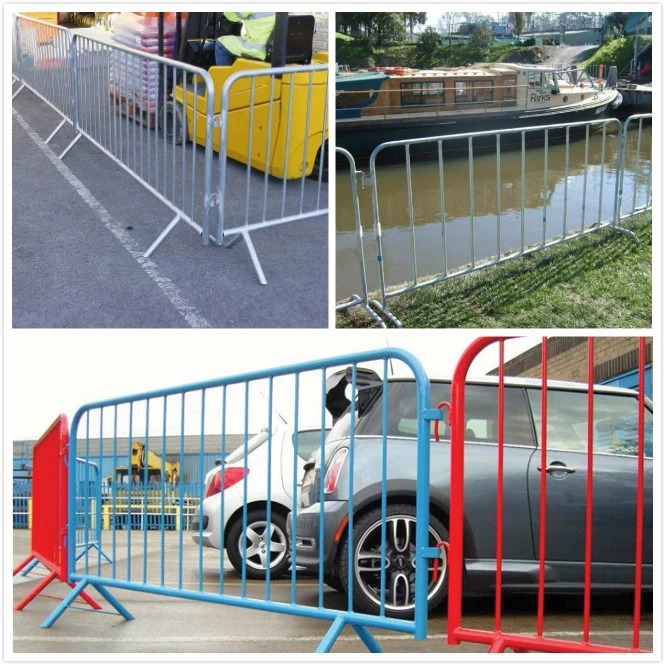 4. Advantages of crowd control barriers
Hot dip galvanizing technology is used after welding to make thecrowd control barriers more
beautiful and anticorrosive
It is not only light but also hard and very easy to handle and transport
Movable feet are more convenient and efficient for transportation and storage
Hot dip galvanized to protect steel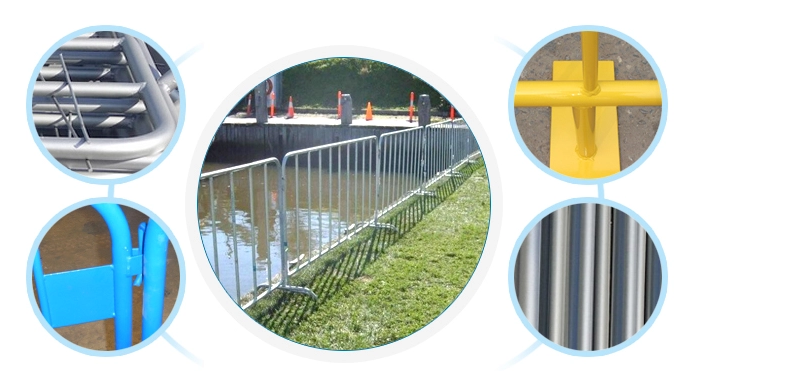 5. Applicationof crowd control barriers
Construction site Demolition site·Public traffic scenic area Bike rack barricades
Sport fields Concert Demonstration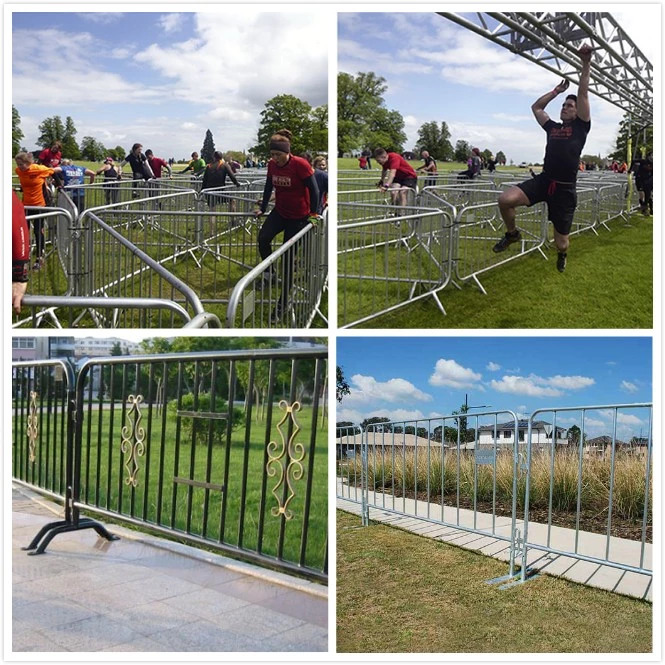 6. Packaging of crowd control barriers
1.in bulk, with containrs
2.or plastic inside, metal pallet outside
3.standard export packaging
4.custom packing is also available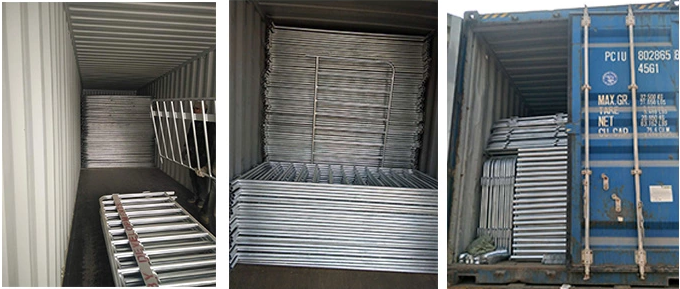 7. Features of crowd control barriers
Excellent weight to length ratio
Easily installed by one person
Colorful for Outdoors
Flexible Feet Choice
Pedestrian & Vehicle Gate
Customization Service
Flexible Structure
Extra long hooks for uneven ground
Hot dipped galvanized
Removable feet